If you want to go sightseeing outside of the Disney and Universal complexes, a good option is ICON Park Orlando!
It is very different from the other parks in the city because it is not thematic and has separate tickets for each of the attractions. 
Today we are going to tell you more about this park, what it is like, what there is to do inside, how much the tickets cost, and whether it is worth visiting. Let's go!
ICON Park Orlando Information
First of all, know that ICON Park Orlando is home to 7 special attractions in the city. And the best part: admission to the site is free. 
You only pay for the attractions you want to see, or you can buy the Play Pass to visit them all. It costs US$74.99 per person. Tip: buy online to get the best prices!
About operation, in summary, the park is open every day, all day. What can change is the opening hours of each attraction, so check before you go.
ICON Park Address
ICON Park is located on one of Orlando's most privileged avenues, the International Drive. Very close to everything and easy to get to.  
Parking at the site is free and secure, so if you are driving, you don't have to worry about where to stop.
To put it in your GPS, this is the right address. Or click to open it directly on Google Maps:
I-Drive 360, 8375 International Dr, Orlando, FL 32819, United States
If you are without a car, it is also possible to arrive using the I-Ride TrolleyIt costs US$5 per person for a whole day. 
To ICON Park, take the red line (get off at stop 14) or the green line (stop G9).
ICON Park Orlando Attractions
You have already seen how easy it is to access ICON Park, right? Now find out more about the attractions available. 
There aren't many, but the park is worth a quiet day of sightseeing, without rushing around and just enjoying the city. 
This is the map of ICON Park. It is not huge, but it is very spacious and has everything you need inside, such as bathrooms, restaurants, etc.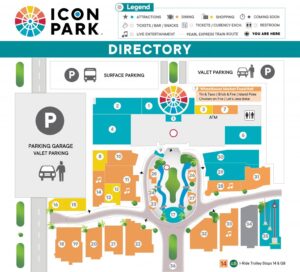 I will also show you the price of each attraction paying separately, for you who don't want to buy the pass that includes all of them. Let's go. 
The Wheel
The main attraction at ICON Park is The Wheel, a Ferris wheel. You may know it by another name, it used to be called the Orlando Eye. 
The Ferris wheel is over 120 meters high, offering an incredible view of Orlando from above (you can even see Disney and Universal). 
To visit, the price is US$28.99 per person and the tour lasts 18 minutes. There is no height restriction, everyone can walk.
Madame Tussauds
You have probably heard of Madame Tussauds, the famous wax museum. The Orlando location is in ICON Park.
There you can see statues of characters like Wonder Woman and Batman, artists, and even soccer players. 
The ticket costs US$43.99 per person, and includes the possibility of visiting the aquarium, too. It is a combo of attractions. 
SEA LIFE Aquarium
The SEA LIFE Aquarium is ideal for families. Here you can see thousands of marine animals up close, including sharks, turtles, and starfish. 
You can also use the same Madame Tussauds ticket to visit, because it is a combo ticket with both attractions. They do not sell them separately. 
In the Game
In the Game is an area of the park with an arcade full of games and a 7D movie theater. 
When you buy the Play Pass, a passport to the attractions, you get a card with US$5 to use in the arcade, and a ticket to the 7D cinema. 
Remember that the Play Pass costs US$74.99 per person and includes admission to all ICON Park attractions.
Museum of Illusions
The museum of optical illusions has exhibits for the family, all with this concept of "confusing" the eye. 
The coolest thing is that in some exhibits they explain how the effect happens, good for those who have (or are) a curious child.
To access the museum you need to buy a combo ticket with The Wheel. It costs US$37.95 per person and allows you to visit both attractions. 
Carousel on the Promenade
The carousel is a classic toy, and the one at ICON Park is pretty cool for small children. 
It is very detailed and has different animals to climb, such as rabbits, zebras, and reindeer, for example. 
The ticket costs US$5 per person, but an adult can accompany the child free of charge. 
Pearl Express Train
The Pearl Express train is a quiet ride that goes all the way around the park. It is a children's attraction, but adults are allowed on it. 
The only way to ride the train is to buy the Play Pass, which includes all attractions. 
Restaurants at ICON Park
When it comes to food, ICON Park leaves nothing to be desired. There are 16 bars/restaurants in the park, with options for all tastes. Check out the complete list.
Tin Roof: A Live Music Joint

Blake Shelton's Ole Red

Gordon Ramsay's Fish & Chips

Sloppy Joe's Orlando

Sugar Factory

Buffalo Wild Wings

Carrabba's Italian Grill

Haagen-Dazs

iCafe de Paris

iLounge Istanbul

Outback Steakhouse

Shake Shack

Tapa Toro Spanish Restaurant

The Wheelhouse Market

Uncle Julio's Mexican

ICON Park Sky Bar, Lawn Bar, Wheelhouse Bar
Shopping at ICON Park
There are a few stores in ICON Park for those who always like to take a little souvenir home with them. 
Wheelhouse:

theme gift store in the park.

Build-A-Bear:

a store where children can create their own toys.

Calenoi Sunglasses:

sunglasses store. 

ICON Park Gifts:

another gift store in the park.

Sugar Factory:

candy and souvenir store. 

Currency Exchange:

currency exchange. It is not very worthwhile, we have already talked about it here.

Breathe Oxygen Bar:

a place with purified air and there are some water massage services and products of the kind. 
Is ICON Park Orlando worth visiting?
Yes, but with caveats. If it is your first time in Orlando, and you don't have much time, I warn you that it is better to focus on the theme parks - they are more of a must-see. 
Now, if you already know the parks or have more time to travel, the ICON Park tour can be a great option for a quieter day!